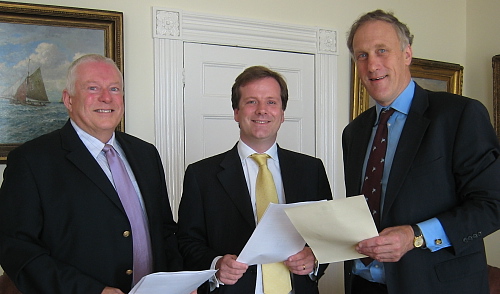 Photo: L to R: Bob Goldfield, CEO of Dover Harbour Board, Charlie Elphicke, Conservative Parliamentary Candidate for Dover & Deal and Julian Brazier MP, Conservative Shadow Shipping Minister.
Julian Brazier MP, Conservative Shadow Shipping Minister and I met with Dover Harbour Board Chief Executive Bob Goldfield to discuss the future of the Port of Dover. We are supporting Government Harbour Revision Order proposals which will aid the Western Docks expansion and give the Port more independence without the threat of privatisation. I want to see two directors on the Harbour Board jointly appointed by Kent County Council and Dover District Council to help strengthen the growing partnership between the Port and the community.
I was delighted that we won support for these important changes, which will hopefully quickly clear Parliament. I listened carefully to the community. People told me they want to see the job creating Port expansion happen quickly and more local accountability without privatisation. If our proposals are taken up in full, these community goals can be delivered.
The Port has increasingly been a positive partner in the Dover Renewal and it is essential that this should continue. Two community appointed directors on the Harbour Board can be a bridge to the betterment of Dover and the Port for the long term.